Durasek wins in the home race
One day after the success of Modolo, the Croatian climber obtains the victory in a summit arrival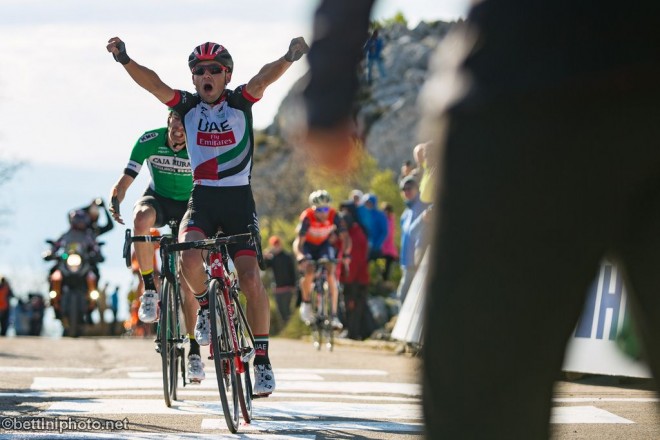 "I'm so happy, it will be great to wear the leader jersey"
A Croatian rider ruled in Croatia: his name is Kristijan Durasek (photo Bettini) and he's the winner of the first summit arrival of the Tour of Croatia.
The climber from UAE Team Emirates obtained the 6th success in career winning the 2nd stage of the home race, 123 km from Trogir to Biokovo, preceding at the end of the final climb (13,3 km) Roson, Nibali, Hirt and Grosschartner.
The key moment at -2 km, when Durasek and other 4 riders followed an attack from Nibali: the Croatian climber beated them in a climb sprint in the final meters.
In the top 10, Niemiec (7th) and Polanc (8th) too, both at 21″ to the winner.
UAE Team Emirates' rider is the new leader of the general classification.
After Modolo's success in the opening stage, the team of the president Matar celebrate the second victory in a row in the Tour of Croatia.
"I'm happy and excited: I know this climb, it's a satisfaction winning here and it was great to fight with top riders such as Nibali – Durasek explained – In the finale, I had extra motivations because I wanted to reward my team mates for their great support: I perceived that they were confident in me and I succeeded in exploiting in the best way my good form. I had good feelings, I thank the training and performance staff of the team for this result.
Tomorrow, it will be great to wear the leader jersey at the start, it would be even better to keep the jersey for many days".
Sports director Maini commented: "The team totally actualized the plan for the stage which was imagined with my colleague Vicino. Congrats to Kristijan and congrats to all the team's riders, today everybody was perfect in his performance and in every moment of the stage".
STAGE RESULTS
1- Durasek 2h43'38"
2- Roson s.t.
3- Nibali 3″
4- Hirt s.t.
5- Grosschartner 9″
GENERAL CLASSIFICATION
1- Durasek 8h07'47"
2- Roson 4″
3- Nibali 9″
4- Hirt 13″
5- Grosschartner 19″