News | Team

•

June 1, 2023
Joao Almeida – Making his mark at the Giro d'Italia
• First Grand-Tour stage victory for UAE Team Emirates' Portuguese talisman
• 3-stage victories for the team represent an impressive showing in Italy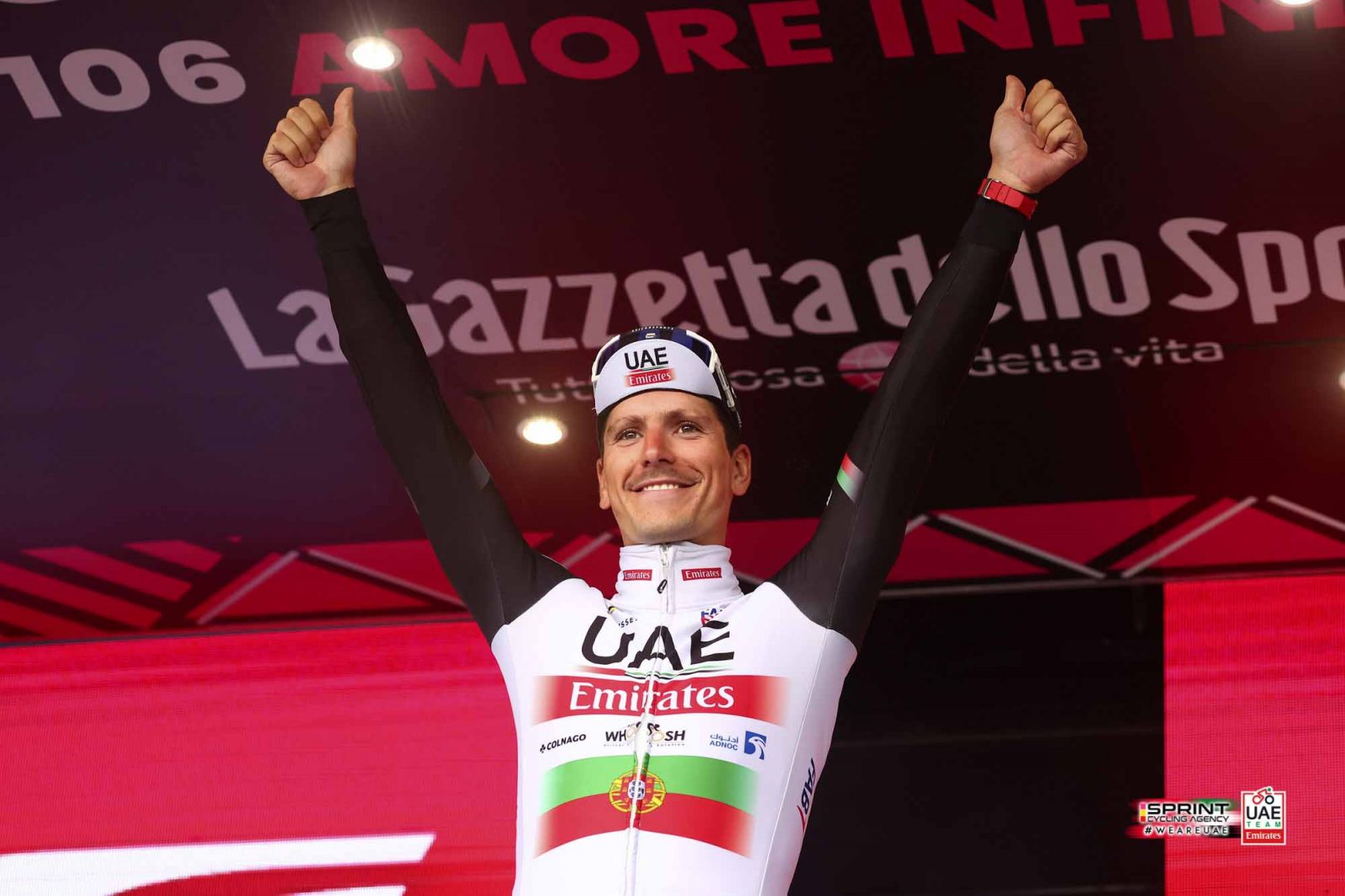 The last three weeks of racing has been everything I could've imagined and then some. First Grand Tour of 2023. Competing against the best. Racing alongside the best. Supported by the best. It was truly a Giro d'Italia to remember.

Thinking back to the start line for Stage 1, an individual Time Trial, I remember feeling in really strong shape. I was fit and healthy, injury-free, and was coming off the back of a really positive training camp. My focus was atop of the podium, but I was also very aware of how high the calibre of riders were in the race, so it was going to take an incredible performance to compete with these guys.

Remco initially led the race and was in control. He is a super rider and extremely talented, but I knew I just had to stick within striking distance of him as we ventured through the first couple of weeks before heading into the mountains in week 3, where the race was always going to come to life and would ultimately be decided. As it happened, Remco had to withdraw from the race with Covid. I understand how tough that can be and how much it can hurt – having been through something similar in 2022 – but it really blew the race wide open and presented me with a fantastic opportunity to produce a memorable result.

The race was quite tactical and uneventful from a GC perspective across the first two weeks. It was all about staying out of trouble, keeping the mind and legs fresh, and preparing for a massive final push in the Dolomites which suited me perfectly. The conditions were treacherous at times in Italy. Heavy rain and strong winds led to some really brutal crashes, so often my focus was just avoiding those and trying to anticipate any blockages to ensure it didn't affect both my health and overall GC standing.

Stage 16. Tuesday 23rd May. This is a stage of racing I'll never forget. My first stage victory in a Grand Tour, powering to the finish line to take the win after an incredibly tough stage of racing. This was where I felt I put my flag in the ground and showed everyone of what I was truly capable of. Beating Geraint Thomas at the line, dropping Primoz on the climb, it was a great afternoon for me. They are both Cycling superstars and Grand Tour winners, so it was amazing to show everyone I can compete with these guys. I've always known I can, but you have to go out there and prove it. The confidence I took from it was massive and it showed me a glimpse of what I'm capable of if I keep learning, keep improving, and never settle for anything other than my absolute best.

From the team's perspective, we performed exceptionally well. Pascal and Brandon's stage victories were so impressive, and the support we received from the entire group was brilliant. The chemistry and togetherness we had in this group was one of the best I can remember at a Grand Tour event, and our willingness to ride for one another is what dragged us through three tough weeks of racing to eventually finish with a positive result. We will all be looking to carry this level of performance, team spirit, and togetherness throughout the second half of the year as we strive towards race win after race win.

Lastly, to the people of the UAE, thank you so much for your support these past three weeks. We felt it on the coast of Positano, up the mountains of the Pyrenees, and everywhere in between. We race for one another, but we always race for you. As a group, we are doing everything we can to make you proud and keep winning on the world stage with the UAE on our jerseys!