Ulissi takes emotional victory in Slovenia
Italian first in dash to the line, Pogačar holds lead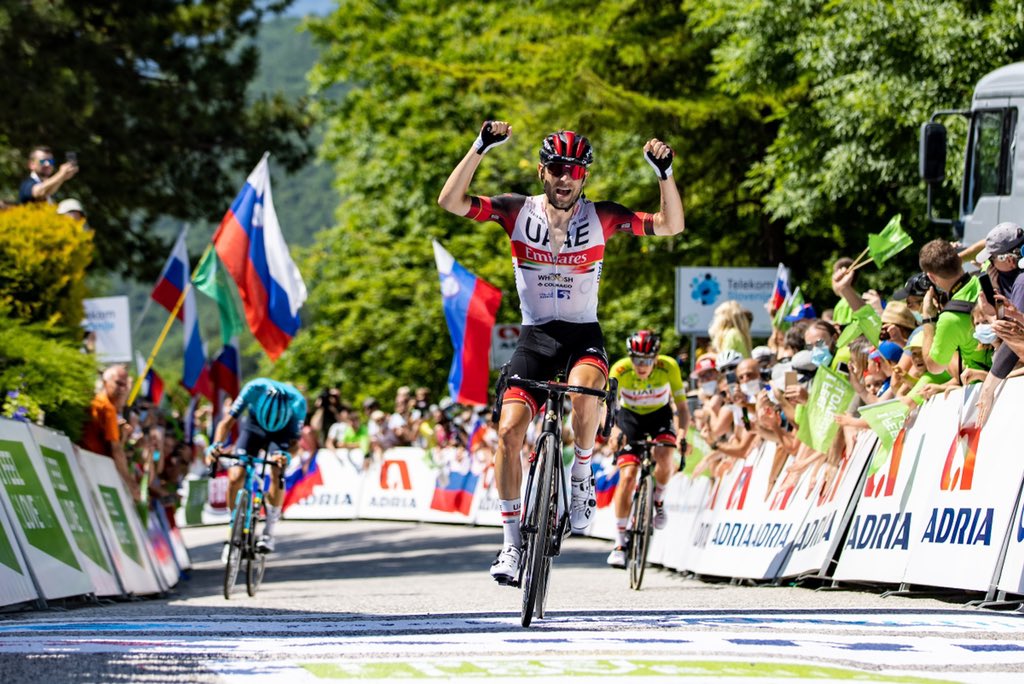 Nova Gorica was the setting for Diego Ulissi's comeback victory as he won the 4th stage of the Tour of Slovenia.
The UAE Team Emirates cyclist, was forced to take a break from competition earlier this year due to a heart problem which was later resolved. He won the 4th stage of the Tour of Slovenia, winning ahead of team mate Tadej Pogačar and Matteo Sobrero (Astana -Premier Tech) the first success since his resumption of competitive activity.
UAE Team Emirates controlled the race at crucial moments, imposing a high pace on the ascent of Ravnica (2.7 km at 10.8% average gradient, cresting at 9 km from the finish) which broke up the leaders group.
With four riders remaining in the small leading group (Pogačar, Polanc, Majka and Ulissi), the Emirati team embarked on the final ascent towards Nova Gorica (2.4 km at 13.3%), pulling first with Polanc and with Majka setting up an ideal situation for Diego Ulissi to go and triumph with an uphill sprint starting just over 100 meters from the finish.
The dominant performance of UAE Team Emirates was also highlighted in the placings of Rafal Majka (4th) and Jan Polanc (10th).
With only one stage to go (Ljubljana-Novo Mesto, 175.3 km a mainly flat run in ), Tadej Pogačar leads the general classification with 1'21 "over Diego Ulissi.
Today marks Ulissi's 40th victory in his career, perhaps one of his most significant successes: "I'm really happy for this victory: after a difficult winter, it's great to have found good legs, a good condition and to be back to winning. Already since the last week of the Giro d'Italia I had excellent sensations, today I made the most of my condition. I thank a great team for the support I received from all of them ".
Order of arrival 4th stage:
1. Diego Ulissi (UAE Team Emirates) 4h15'28 "
2. Tadej Pogačar (UAE Team Emirates) +1 "
3. Matteo Sobrero (Astana-Premier Tech) s.t.
General classification after the 4th stage:
1. Tadej Pogačar (UAE Team Emirates) 15h11'26 "
2. Diego Ulissi (UAE Team Emirates) + 1'21 "
3. Matteo Sobrero (Astana-Premier Tech) + 1'35 "
Photo: Sportida